ACRYLIC DISPLAY STAND
Maximising Visual Impact While Keeping Costs Affordable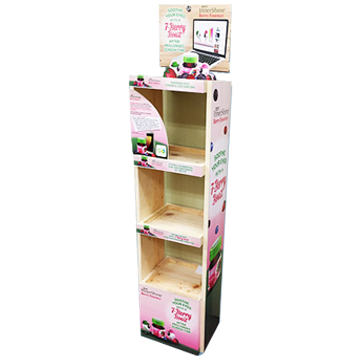 With over 20 years of experience providing customised high-quality Point-Of-Sale display materials, we are confident of being your best partner for all your advertising and promotional needs! Always striving to be innovative and reliable, our satisfied clientele includes both established brands and small companies.
At Tempo Design, we have a wide variety of customisable display stands to serve various functionalities. Cardboard and acrylic display stands are the most commonly used for maximising visual impact while keeping costs affordable. Regardless of your marketing requirements, our reliable and skilled production team will ensure that you receive the best quality and service!
CUSTOMISABLE
Branding and marketing is pivotal in bringing across advertising messages to your target audience. We believe in working hand-in-hand to produce innovative display standees that are effective in attracting your intended group of customers so that the goals of your marketing campaigns are met.
Display standees are an excellent choice for in-store floor or counter displays because these can be customised to your exact marketing requirement. There is utmost flexibility in size and design options – fabrication from cardboard or clear acrylic, 2D or 3D visuals, addition of acrylic turntables and more.
HIGH-QUALITY
Using only the best printing materials and equipment, our good reputation is built on high-quality workmanship, fast turnaround time and reliability. Besides premium cardboard POS displays, we can also help you to create innovative and impactful acrylic display stands to ensure lasting durability.
All these are achieved at competitive prices so that all our valued customers can have access to cost-effective marketing solutions!
TOP SERVICES
We understand how difficult it can be to work with a production house who does not give you the full support you need. From project conceptualisation to manufacturing and down to the actual logistical setup, our professional team is dedicated to providing you with sound advice and the best service standards.
Our diverse and extensive portfolio is proof of our capabilities and credibility. Leave the fretting to our expert team to design and produce display standees that will attract customers, increase sales and meet your advertising targets! Call us for a non-obligatory, free quote now! 
Get In Touch With Us
We are an innovative & reliable production house for your needs!