HANGSELL
Display Boards That Hang Products For Sale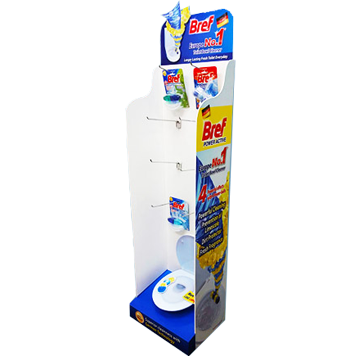 As the name suggests, hangsell are display boards that hang products for sale and advertising. They are often used in exhibitions, supermarkets, chain stores, retail shops and for promotion purposes. With easy application, hangsell are very easy to use. Self-adhesive tabs are stuck onto the products and then hung on a peg hook. Most of these hanging shelves can hold products of up to 400g.
Hangsell are customisable and they come in all textures and designs. Glossy and matte lamination, varnish, spot UV, logo embossed, stamping aqueous coating are all examples to meet the needs of customers.
To learn more about hangsell, click here. 

LIGHTWEIGHT
Made of corrugated cardboards, these hanging displays are lightweight and environmentally friendly. They are not only DIY, but they are also stable, flexible and durable.

EYE-CATCHING
Be it in-store or atrium events, these hanging display shelves are aesthetically pleasing. Give your brand the deserved attention and visibility with a wide variety of advertising displays. The pop-out feature of hangsell displays also enable customers or clients to first notice your products and/or services before anything else. That way, it helps to increase advertising value, promote your brand and increase sales.

MAXIMISE SPACE
Hangsell also helps maximise space and impulse sales as they allow products to be displayed in store areas that are previously unused. As they are often positioned in the line of vision, your customers are thus more encouraged to pick those items.
Why Choose Tempo Design Services Pte Ltd?
Tempo Design is an innovative and reliable production house for needs in every field, be it advertising, retail or supermarket. Tempo Design also has a demonstrated track history of 20 years of presence in the industry and has supported many well-known brands like Tefal and Guardian in their business needs.
With Tempo Design's vast experience and passion for innovation, you can be expected to receive only high quality services and products for your advertising and display needs.
For more information about Tempo Design, click here.
Get In Touch With Us
We are an innovative & reliable production house for your needs!