PALLET DISPLAY
Appealing & Effective Free-Standing Advertising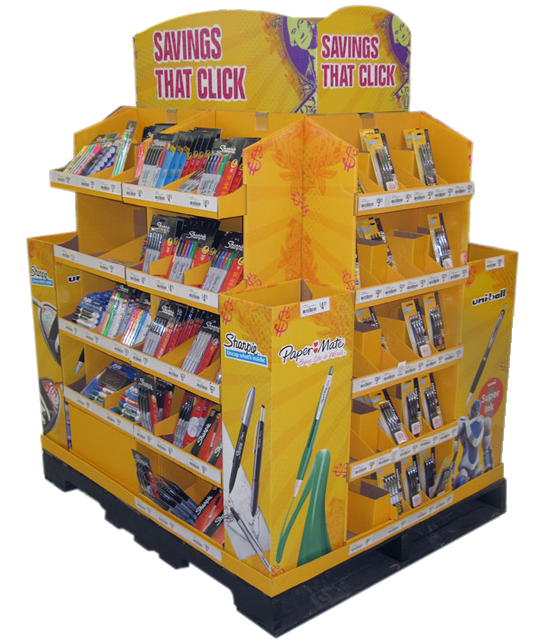 Tempo Design Services Pte Ltd is an expert in the field of advertising design with over 20 years of experience, guaranteed to optimise the aesthetics and marketing efforts for your products.
Our wide range of marketing installations include quality pallet displays that are customised to your satisfaction.
Contact us by phone or email to receive quick and reliable assistance from our team of dedicated experts who are trained to provide your ideal advertising design.
BRAND AWARENESS
An effective pallet display may contain colour themes, slogans, logos and designs that helpconsumers identify with your brand, improving your future and ongoing marketing efforts. Byconveying strategic messages through pallet displays, brands may evoke a stronger customer response.
MARKETING STRATEGY
Installing an attractive pallet display in high traffic areas of a retail outlet can help boost sales. Increase your chances of grabbing the attention of customers with well-positioned pallets.
TRUSTY
Pallet displays are manufactured to support heavy items such as wine bottles and beer cartons. Each pallet offers unobstructed views from all angles, assuring customers with the quality of your products and emphasising your brand, making them a powerful advertising tool.
Why go with Tempo Design Services PTE LTD?
EXPERT IN THE FIELD
We have been extending our professional services in advertising design for over 20 years. Our past collaborations with big brands across the industries has equipped us with the skills and expertise to solve all your advertising needs. You can count on us!
SOLUTIONS PROVIDER
We go beyond providing quality pallet displays. We take pride in serving as a problem solver foryour advertising needs, with a wide option of available installations that include: POSMsolutions, wall murals, and acrylic display stands.
QUALITY ASSURED
We only provide installations of superior quality. Our displays are made to satisfy everyadvertising display requirement of our customers. Each project is meticulously managed by our service team to maximise the promotion of your brand.
Tempo Design Services Pte Ltd is guaranteed to provide you with standout pallet displays that will raise the productivity of your advertising campaigns.
Get In Touch With Us
We are an innovative & reliable production house for your needs!